Fast Times party band would love to perform at your Wedding, Birthday Party, Corporate or other Event. Go to our "Contact" page and call or email us for details and availability.
Fast Times would greatly appreciate your 5 Star review on any or all of the websites below. Thank you in advance for your 5 Star Reviews:
Google Reviews
Fast Times Band Reviews:
---
Email received on 08/14/2023 from a private party client:
You were AMAZING! If you ever need someone to tell a potential new client how awesome you are — please give them my number! Do you have a fan club list that notifies people when you are playing somewhere? We would love to see you guys play again!
Holly F. 50th Birthday Party
---
Email received on 05/22/2023:
Good morning, Mike,
A HUGE HUGE THANK YOU to you and your band for an absolutely AWESOME performance on Saturday night!!! You guys are incredible. We received so much positive feedback from our school on you guys. Everyone LOVED your music and had a fantastic time grooving to the songs. We sincerely appreciate the energy and fun that you brought to our event. You really helped make the day a success. We hope to have you back out next year for some more fun!!!
Have a wonderful week!
Marissa M. School Staff and Event Planner
---
Email received on 05/16/2023:
Hi Mike,
It was such a pleasure to have you all kick off our Summer Concert Series! I had no doubt that I picked the best group to energize our Members. We have been receiving compliments from our Anonymous Feedback Form.
Best,
Carl C. Director of Events and Catering
---
Online 5 Star Review received on 07/10/2022:
The Party of a Lifetime
My 60th was the biggest and best bash we ever have hosted. Everyone is letting us know how wonder the evening was. I was on the dance floor literally the whole time. Thank you to Fast Times for making my day Epic!
Reviewer: Stephan B. 60th Birthday Party 07/09/2022
---
Online 5 Star Review received on 04/16/2022
Got everybody dancing, kept everybody dancing
Great band, great instrumentalists and vocalists, great attitudes. Awesome event because of them.
Reviewer: Ben R. – 50th Anniversary Party 04/15/2022
---
Thanks so much Mike. We loved the band! Already trying to think of an excuse for another party
Reviewer: Karin and Neal – 50th Birthday Party 03/07/2022
---
Online 5 Star Review received on 8/1/2021
Fun, Flexible and Fabulous!
We hired Fast Times to play at an 80s-themed corporate event and they were a hit all around! Their communication was great, they arrived in plenty of time to be set up and ready for go time, and they were very flexible and adaptable to specific requests we had. The songs were great and they kept the crowd going all night. When they were all done, they even acquiesced to the group request for "one more song!" and hit the finale out of the park. Would definitely use them again and highly recommend!
Reviewer: Mindy N – Corporate Event Planner
---
Y'all were awesome!!! It sounded amazing. Got so many people commenting how good y'all were. Thanks for an awesome night!!
From Will B. – Groom – Via Email
---
We had such a great time! My friends and I will absolutely be using you in the future. Thanks for making the party extra special.
From Michelle – Birthday Party. via email
---
Hi Mike,
YOU GUYS WERE GREAT! Thank you for being a part of our wedding and helping to make it an evening we will always remember. You guys rocked! And you CRUSHED it on Little Lies! Thanks for learning a few Fleetwood Mac songs for us – it made the evening that much more special.
Thanks again and all the best to you and the Fast Times gang!
Cheers,
From Matt and Ryan – wedding couple. via email
---
WOW WOW WOOOOW !!!!!! You guys are freakin amazing. We really need to do more weddings together. 1000% outstanding. Thanks Guys
– Teddy
From Teddy – wedding videographer and photographer. via email
---
Hi Mike,
Thanks so much for an awesome performance at our wedding. We had so much fun on the dance floor and all of our guests raved about the band!
Thanks again!
– Bobby
From Bobby and Crystal. via email
---
Hi Mike,
Thank you so much for making Nancy's birthday so special and memorable. All our guests raved about how great Fast Times was. You guys were amazing. Thanks again.
Taylor and Nancy
From Taylor and Nancy. via email
---
You guys rocked it! We loved your performance. We will definitely be in touch next year.
From Natalie K. via Facebook
---
Thanks a million Mike!
It was a pleasure working with you and your group and I agree…. it was a fantastic party. You guys had the floor packed and it was so great of you to take the initiative and dress in costume for theme! That was a unexpected surprise and was the icing on the cake.
I have copied all of our sales team so they will have your contact info if they have need for future events. You have my GLOWING recommendation!!!!
Please feel free to use me as a reference.
Happy Holidays,
Darryl
From Darryl H. via email
---
What an amazing show and night on Saturday!
Stephanie, Sonia, Oliver, and I can't thank you enough for how you rocked the crowd, how well the sound was set up, and how beautifully the logistics had worked out. Everyone had a really great time and we've got a lot of compliments about you. Thank you!! We will never forget this night.
From Christian C. via email
---
I've hired Fast Times for a number of events, from private events such as weddings to larger public fairs / festivals, and I have always found their team to be reliable, communicative and completely professional. The band is really fun, accommodating and a really fun high energy show, that our clients have all appreciated. Mike and his team are an excellent choice as a band for an event. Thanks Fast Times.
From Jay S.
via Yelp review (five stars)
---
I booked Fast Times for my wedding this past weekend and let me tell you, it was one of the best decisions i have made. They were so open and willing to work with me from budget to song requests to letting me even do a few songs. They even did all the emcee'ing for our reception because my emcee cancelled last minute. They arrived early to setup and make sure everything was in order. They had lights , the whole works!! When it came time to get down they definitely delivered!!! Our guests were up on their feet the whole time grooving!! They even dressed in my wedding colors too!! We had so much fun and everyone was complimenting me on the band. It was definitely unforgettable. My friends are already talking about going to see them at their next gig coz they loved them sooo much. I definitely recommend hiring them for your next event. You will definitely be happy !!!they do gigs all over even if you dont have an event. Come see them!! They are worth it!
From Dianne L.
via Yelp review (five stars)
---
We booked Fast Times for our wedding in SF in Dec 2015. At first I balked at the price, but now that I've seen what it did for our wedding, I realize that they really made it special for everyone. I'm really not exaggerating to say that they were worth every penny. Their selection of music got multiple generations of both US and Europeans on the dance floor, and kept them there for each of the 3 sets. On top of that, everyone in the band was both nice to a fault and quite professional. We had two DJs follow them, and they really had trouble reading the crowd so this says something about the selection by Fast Times.
From Travis H.
via Yelp review (five stars)
---
Fast Times was our wedding band in June 2013 in San Francisco and were amazing! All of our friends still comment on how awesome the band was and the ages on the dance floor spanned 3 year olds to grandmas. They played three sets with dress changes between. Why? Because they put that much energy/dance moves into their performance.
Mike was super easy to work with and professional. Planning a wedding is tough stuff but this piece of the puzzle was easy. They even learned David Bowie's Under Pressure at our request and it kinda blew my mind the first time I heard it during their sound check.
If you're looking for a wedding band, you should check these guys out. We found them at Maggie McGarry's one night in North Beach a year before we started planning and never forgot them. Fast Times = Good Times.
From Mike C.
via Yelp review (five stars)
---
I hired these guys to perform at my wife's birthday party. They were awesome! Everyone loved the music and had a great time. My only regret is I booked them for only 3 hours. Should have definitely done longer.
From Eric C.
via Yelp review (five stars)
---
We booked Fast Times 80s for our August 2014 wedding in San Francisco, and they did not disappoint. Our guests were on the dance floor for three straight hours, and we received so many compliments about the band that we lost track.
Mike was great to work with, and was very responsive with all of our questions. Our venue had a lot of restrictions, and they were willing to play on a smaller stage with extra padding beneath them to protect the floor. They also let us use their sound equipment during the ceremony, cocktail hour and dinner.
They have an extensive song list, and they also learned "Lights" by Journey to play as our last song. They're very energetic and get the crowd involved…it's basically impossible not to have a good time when they're on stage. Highly recommended if you need a band for your special event!
From Max S.
via Yelp review (five stars)
---
WE LOVE THIS BAND! They played at our wedding in April 2014 and completely rocked it! They were very professional, responsive, and a complete pleasure to work with… they made our wedding incredibly special. They were flexible with our venue requirements, and helped us with other aspects of M/Cing our wedding. We would highly recommend them to anyone looking to have fun, amazing live music at their wedding… or just go check them out when they are playing around the Bay Area – ALWAYS a good time!
From Shelbi E.
via Yelp review (five stars)
---
Fast Times is one of the best Bay Area Bands around! They are extremely professional – on time to set up, they are reliable, communicate well, and very reasonably priced. They are worth every penny and more. They have a wide variety of songs they play but if you want them to play a song not on their list, then let them know and they will play it. They are a fun band, full of energy and really get the crowds dancing. They wear the coolest clothes too! Each band member is extremely talented so when you put them all together you get nothing but pure AWESOME TALENT! I can't think of any other band that I would want to hire. They play Weddings, Birthdays, Corporate Events, Clubs, Casinos, Fundraisers, Conventions, Holiday Events, and pretty much any event you can think of. But don't just take my word for it. Go check them out live or check out one of their videos on YouTube or go to their web page fasttimesrocks.com. You won't be disappointed.
From Kathy C.
via Yelp review (five stars)
---
Thank you THANK YOU Thank you! For making me look like a friggin' GENIUS to my entire company 😉
Seriously – I have been told numerous times today already that last night was the BEST Holiday Party (not just office holiday party) that they have ever attended and it's all bc of YOU GUYS! Your energy, your music, and your theme made it all come alive.
Thank you for driving all the way up to the bay area for the gig, Dan. Thank Kimzy for coming up, too. Watching you all play was like a timewarp for me 10 years back to the Claremont and the GamePro party.
The sets were perfect – the atmosphere was great and THANK YOU for letting me live a lifelong dream of singing onstage to Billy Idol in front of a crazy crowd LOL I appreciate you putting up with all the Capcom nuts who rushed the stage too.. I know that can be a pain LOL
It was truly one of the best times I've ever had – it was PERFECT.
We most definitely will be working again – just need to find the next opportunity!
Have a great Holidays!
Francis Mao
Sr Director of Creative Services and Events
CAPCOM
---
Fast Times was the wedding band at our September 2012 wedding. They were AMAZING – super high energy, played a GREAT playlist and our wedding guests had a blast. Our friends still talk about Fast Times to this day and how much fun they had on the dance floor. The dance floor was packed all night long and my husband and I barely took a break because we were having so much fun. They do some coordinated choreography which was fun to watch and they made their way onto the dance floor to let some of the guests sing into the mike towards the end of the night. The lead singer even gave me and my husband his neon green headband and wristband since we were so sweaty. My husband communicated with Mike leading up to the wedding and he was very responsive and very easy to work with. They made our wedding so much fun!
From Jen D.
via Yelp review (five stars)
---
you guys were awesome.. we have already received so much great feedback on your performance.. you have raised the bar for a band at one of our events, and i will certainly call on you again when i need entertainment at one of our events..
please tell your bandmates how much we appreciate your efforts. i am really glad everything worked out.
keep on rocking!
best,
Rich
UCSF
---
You guys were awesome and everyone had a blast!
Thank you so much!!
Best,
Margaret Davis –
[private party Sonoma]
---
I don't even know where to start. This band MADE our wedding. We had 90% of our guests on the dance floor the entire time they were playing (the remaining 10% were the "less limber" crowd). They were professional, timely and most importantly amazing at what they do! Very talented musicians and singers with an infectious energy. If you enjoy 80's music and are considering a cover band for any event, these are the guys to go with. I honestly can't say enough good things. Thank you to Fast Times for making our wedding such a fun evening!
from Britney W.
via Yelp review (five stars)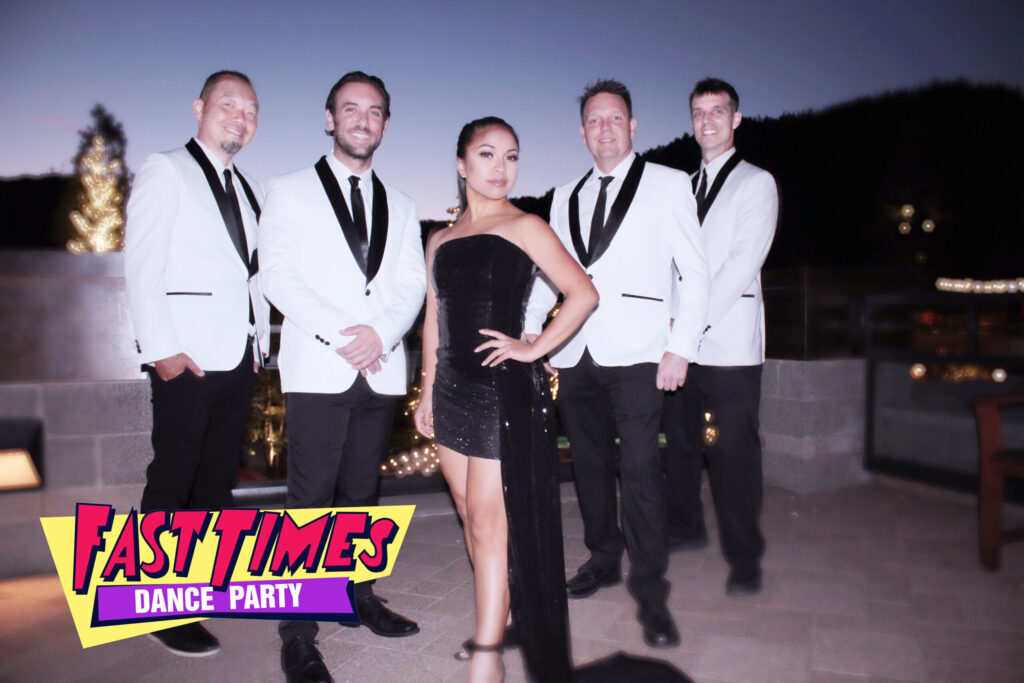 CLICK HERE if you would like to subscribe to Fast Times 80s Cover Band email list and get occasional updates on where we are playing.
Download or View our Electronic Press Kit – EPK.pdf: Electronic Press Kit – EPK.pdf
Find us on Facebook: http://www.facebook.com/FastTimesRocks
Find us on Instagram: https://www.instagram.com/fasttimesrocks/
Find us on YouTube: http://www.youtube.com/fasttimes80s
Find us on Twitter: http://twitter.com/fasttimes80s
Find us on LinkedIn: http://www.linkedin.com/company/fast-times
Find us on Twitch: https://www.twitch.tv/fasttimesrocks
Fast Times Band performing Live

Fast Times Band Reviews, Best 80s Band Northern California, Best 80s cover band Northern Nevada, best 80s party band Sonoma, best 80s tribute band Carmel Valley, Best 80s event band Sacramento, Best Band Napa, Best cover band San Francisco, best party band Monterey, best tribute band Elk Grove, Best event band Lake Tahoe