Fast Times Next Shows:
06/08/2023 Music and Market Concert Series – Todos Santos Plaza, 2175 Willow Pass Rd, Concord, CA 94520 6:30pm – 8:00pm
06/09/2023 Oracle Park – Levi's Concert Series – Giants vs The Cubs – 24 Willie Mays Plaza, San Francisco, CA 94107 5:00pm – 7:00pm
06/10/2023 Birthday Party- Private Event – El Dorado Hills CA 95762 7:30pm – 10:30pm
Fast Times party band is the super-group to get your guests on the dance floor, singing along, having fun and having a unique and completely fantastic event to remember. Fast Times cover band would love to perform at your Party, Wedding, Birthday Party, Fundraiser, Corporate Event or other Event. Go to our "Contact" page and call or email us for details and availability.
Fast Times New Promo Video:

Fast Times band is performing this week. Click on the "Shows" link to find out where you can see us.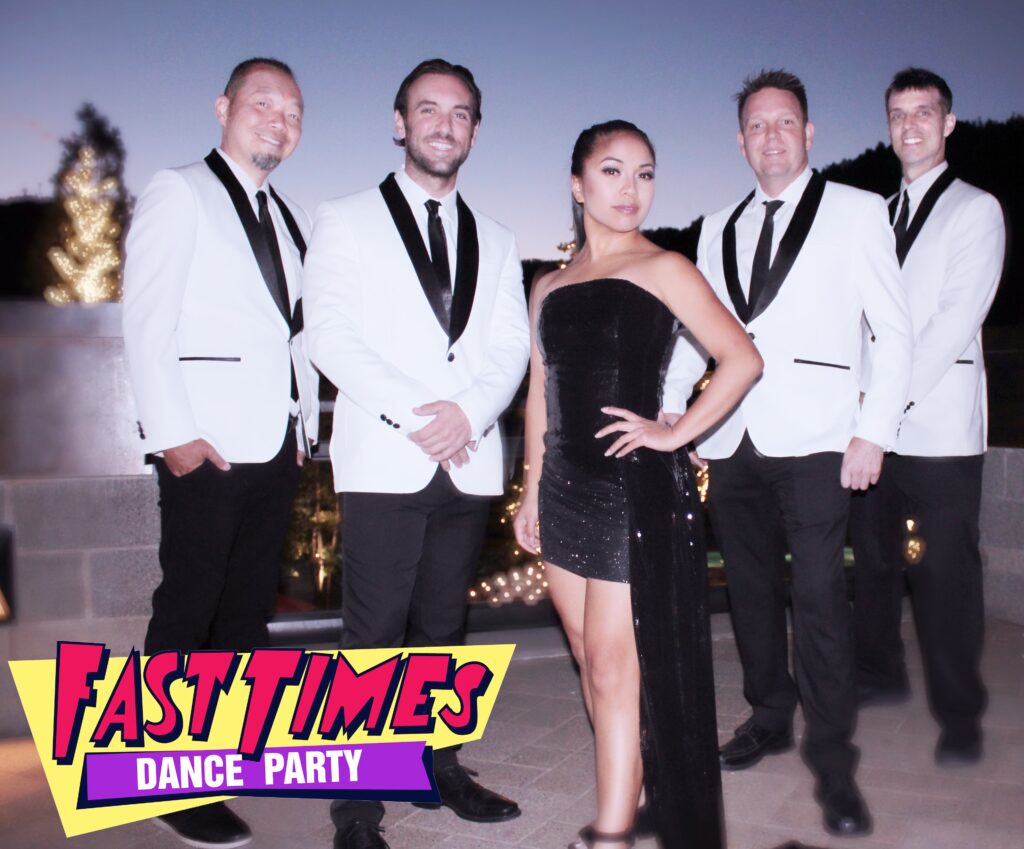 Fast Times cover band, performs throughout the SF Bay Area, Reno and Lake Tahoe Area, Sacramento, Monterey, San Francisco, San Jose, Napa, and Wine Country at weddings, corporate events, holiday parties, festivals, conventions, fundraisers, birthday parties, casinos, and cruises. Fast Times band performs your favorite dance and rock hits from the 70s to Today, mostly or all 80s, and mostly or all 90s. Fast Times band plays every song with a dance beat that you cannot resist. Fast Times cover band is always excited to learn song requests. Fast Times party band will travel anywhere in the world to perform at your event.
Since 1999, Fast Times band has performed high-energy dance hits at numerous venues including Levi's Stadium, AT&T Park, California's Great America, Avaya Stadium, Bimbo's 365, Great American Music Hall, Atlantis Casino and Resort, Silver Legacy Casino, El Dorado Casino, Northstar Tahoe Resort, Hyatt Incline Village, Santa Clara Convention Center, Pier 39's Fleet Week Celebration and many more. Fast Times has performed for hundreds of weddings, holiday parties, birthday parties, fundraisers and companies of all sizes, from start-ups to Fortune 500s.
Fast Times 80s Cover Band Video, Performing Live:
Fast Times Band performing "Levitating" and "Love Shack"

Fast Times party band performing "Don't Stop Believin'" and "All The Small Things"

Fast Times band has also opened for or performed as the backing band for some of your favorite acts including: Sister Sledge, Missing Persons, Blue Oyster Cult, Gladys Knight, 98 Degrees, Pablo Cruise, Arturo Sandoval, Atlas Genius, The Neighbourhood, Blackstreet, and Lloyd Williams the voice of Otis Day and the Knights from the movie Animal House.
Some of Fast Times' clients include:
Google, Toyota, Waymo, Facebook, Amazon, eBay, Oculus, LiveRamp, Walmart, San Francisco 49ers, Zynga, Monterey Bay Aquarium, Shriners Hospitals, Fenwick and West, Mark Hopkins Intercontinental Hotels, Fairmont Hotels, California's Great America, Santa Clara, CA, Atlantis Casino Resort Spa, Reno, NV, Northstar Tahoe, Truckee, CA, Silver Legacy Casino, Reno, NV, Harrah's Tahoe, South Lake Tahoe, CA, San Jose Earthquakes, Gold Country Casino, Bay Meadows Race Track, Black Oak Casino, Cache Creek Casino, Harrah's Reno, Thunder Valley Casino, River Rock Casino, El Dorado Casino, Reno, NV, Twin Pines Casino, Robinson Rancheria Casino, Cities of Palo Alto, CA, Davis, CA, Oakland, CA, Pleasant Hill, CA, Sacramento, CA, San Francisco, CA, San Mateo, CA, American Canyon, CA, Tracy, CA, Benicia, CA, Pleasanton, CA, Cameron Park, CA, San Bruno, CA, Reno, NV, Caughlin Ranch HOA, Reno, NV, The Burlingame Mothers Club, Carondelet High School, Menlo School, Woodland School, Woodcreek Gold Club, Discovery Bay Country Club, Canary Foundation, Relay For Life, Susan G. Komen, Wall and Ceiling Alliance, Knights of Columbus, Electronic Arts, Fragomen Law Firm, Gamepro Magazine, Genentech, International House, UC Berkeley, Les Concierges, Live 105 Radio, Mix 106.5 Radio, NUMMI, Richmond Yacht Club, St. Francis Yacht Club, Sanrio "Hello Kitty," Shell Oil, Society for Developmental Biology, Stanford Computer History Museum, Talon Design Group, The Professionals Guild, The Sequians, Bhava Communications, Emeryville, CA, Gregory Gardens Elementary School, Hidden Oaks, Team Commercial Construction, Team in Training, Walsworth Publishing Company, Water Works Park, Zeta Psi UC Berkeley, Chisty White CPA, Reno, NV., SJ Amoroso Construction, Randle Communications, Sacramento, CA., Sonic, San Francisco Yacht Club, Ubisoft.
Download or View our Electronic Press Kit – EPK.pdf: Electronic Press Kit – EPK.pdf
CLICK HERE if you would like to subscribe to Fast Times 80s Cover Band email list and get occasional updates on where we are playing.
Find us on Facebook: http://www.facebook.com/FastTimesRocks
Find us on Instagram: https://www.instagram.com/fasttimesrocks/
Find us on YouTube: http://www.youtube.com/fasttimes80s
Find us on Twitter: http://twitter.com/fasttimes80s
Find us on LinkedIn: http://www.linkedin.com/company/fast-times
Find us on Twitch: https://www.twitch.tv/fasttimesrocks
Fast Times, Fast Times Band, Fast Times 80s Band, fast times, fast times band, fast times 80s band, fasttimes, Fasttimes, best wedding band, best 80s band, best 80s cover band, best 80s party band, best 80s tribute band, best 80s event band, best band, best cover band, best party band, best tribute band, best event band